EP1276012A3 - Resist patterning process - Google Patents
Resist patterning process
Download PDF
Info
Publication number

EP1276012A3

EP1276012A3

EP02254910A

EP02254910A

EP1276012A3

EP 1276012 A3

EP1276012 A3

EP 1276012A3

EP 02254910 A

EP02254910 A

EP 02254910A

EP 02254910 A

EP02254910 A

EP 02254910A

EP 1276012 A3

EP1276012 A3

EP 1276012A3

Authority

EP
European Patent Office

Prior art keywords

resist
resist film
pattern
patterning process
form

Prior art date

Legal status (The legal status is an assumption and is not a legal conclusion. Google has not performed a legal analysis and makes no representation as to the accuracy of the status listed.)

Granted
Application number
EP02254910A
Other languages
Other versions
Inventor
Tomohiro New Funct. Mat. Research Ctr. Kobayashi
Satoshi New Funct. Mat. Research Center Watanabe
Current Assignee (The listed assignees may be inaccurate. Google has not performed a legal analysis and makes no representation or warranty as to the accuracy of the list.)
Shin-Etsu Chemical Co Ltd
Original Assignee
Shin-Etsu Chemical Co Ltd
Priority date (The priority date is an assumption and is not a legal conclusion. Google has not performed a legal analysis and makes no representation as to the accuracy of the date listed.)
Filing date
Publication date
Priority to JP2001213015
priority
Critical
Priority to JP2001213015
priority
Priority to JP2001295653
priority
Priority to JP2001295653
priority
Priority to JP2002045588
priority
Priority to JP2002045588
priority
Application filed by Shin-Etsu Chemical Co Ltd
filed
Critical
Shin-Etsu Chemical Co Ltd
Publication of EP1276012A2
publication
Critical
patent/EP1276012A2/en
Publication of EP1276012A3
publication
Critical
patent/EP1276012A3/en
Application granted
granted
Critical
Publication of EP1276012B1
publication
Critical
patent/EP1276012B1/en
Application status is Active
legal-status
Critical
Anticipated expiration
legal-status
Critical
Links
Classifications
G

—

PHYSICS

G03

—

PHOTOGRAPHY; CINEMATOGRAPHY; ELECTROGRAPHY; HOLOGRAPHY

G03F

—

PHOTOMECHANICAL PRODUCTION OF TEXTURED OR PATTERNED SURFACES, e.g. FOR PRINTING, FOR PROCESSING OF SEMICONDUCTOR DEVICES; MATERIALS THEREFOR; ORIGINALS THEREFOR; APPARATUS SPECIALLY ADAPTED THEREFOR

G03F7/00

—

Photomechanical, e.g. photolithographic, production of textured or patterned surfaces, e.g. printing surfaces; Materials therefor, e.g. comprising photoresists; Apparatus specially adapted therefor

G03F7/004

—

Photosensitive materials

G03F7/039

—

Macromolecular compounds which are photodegradable, e.g. positive electron resists

G03F7/0392

—

Macromolecular compounds which are photodegradable, e.g. positive electron resists the macromolecular compound being present in a chemically amplified positive photoresist composition

G03F7/0395

—

Macromolecular compounds which are photodegradable, e.g. positive electron resists the macromolecular compound being present in a chemically amplified positive photoresist composition the macromolecular compound having a backbone with alicyclic moieties

G

—

PHYSICS

G03

—

PHOTOGRAPHY; CINEMATOGRAPHY; ELECTROGRAPHY; HOLOGRAPHY

G03F

—

PHOTOMECHANICAL PRODUCTION OF TEXTURED OR PATTERNED SURFACES, e.g. FOR PRINTING, FOR PROCESSING OF SEMICONDUCTOR DEVICES; MATERIALS THEREFOR; ORIGINALS THEREFOR; APPARATUS SPECIALLY ADAPTED THEREFOR

G03F7/00

—

Photomechanical, e.g. photolithographic, production of textured or patterned surfaces, e.g. printing surfaces; Materials therefor, e.g. comprising photoresists; Apparatus specially adapted therefor

G03F7/26

—

Processing photosensitive materials; Apparatus therefor

G03F7/40

—

Treatment after imagewise removal, e.g. baking
Abstract
A resist patterning process is provided comprising the steps of (a) applying a resist composition onto a substrate to form a resist film, (b) prebaking the resist film, (c) exposing the prebaked resist film to a pattern of radiation, (d) post-exposure baking the exposed resist film, (e) developing the resist film to form a resist pattern, and (f) post baking the resist pattern for causing thermal flow.
The resist composition contains a polymer comprising structural units of formula [I] in a backbone and having acid labile groups on side chains as a base resin and a photoacid generator.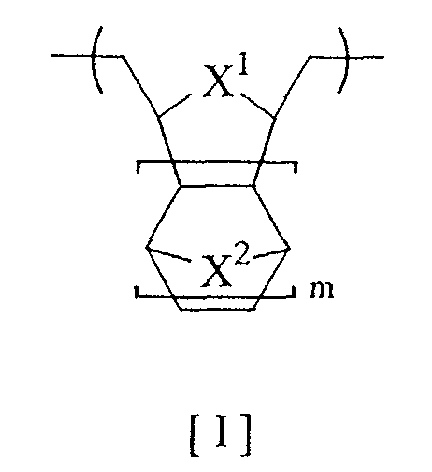 X
1
and X
2
are -O-, -S-, -NR-, -PR- or -CR
2
-, R is H or C
1-20
alkyl, and m is 0 or an integer of 1 to 3. The invention is effective for improving the degree of integration of semiconductor LSI.
EP02254910.9A
2001-07-13
2002-07-12
Resist patterning process
Active
EP1276012B1

(

en

)
Priority Applications (6)
| Application Number | Priority Date | Filing Date | Title |
| --- | --- | --- | --- |
| JP2001213015 | | 2001-07-13 | |
| JP2001213015 | | 2001-07-13 | |
| JP2001295653 | | 2001-09-27 | |
| JP2001295653 | | 2001-09-27 | |
| JP2002045588 | | 2002-02-22 | |
| JP2002045588 | | 2002-02-22 | |
Publications (3)
Family
ID=27347152
Family Applications (1)
Application Number
Title
Priority Date
Filing Date

EP02254910.9A

Active

EP1276012B1

(

en

)
2001-07-13
2002-07-12
Resist patterning process
Country Status (4)
Families Citing this family (10)
* Cited by examiner, † Cited by third party
Publication number
Priority date
Publication date
Assignee
Title

KR100636068B1

(

en

)

*

2001-06-15
2006-10-19

신에쓰 가가꾸 고교 가부시끼가이샤

Resist Composition and Patterning Process

KR100745064B1

(

en

)

*

2004-09-17
2007-08-01

주식회사 하이닉스반도체

Top anti-reflective coating composition and method for pattern formation of semiconductor device using the same

TWI332122B

(

en

)

*

2005-04-06
2010-10-21

Shinetsu Chemical Co

Novel sulfonate salts and derivatives, photoacid generators, resist compositions and patterning process

US7396482B2

(

en

)

*

2005-10-28
2008-07-08

Infineon Technologies Ag

Post exposure resist bake

EP1780198B1

(

en

)

*

2005-10-31
2011-10-05

Shin-Etsu Chemical Co., Ltd.

Novel fluorosulfonyloxyalkyl sulfonate salts and derivatives, photoacid generators, resist compositions, and patterning process

EP1780199B1

(

en

)

*

2005-10-31
2012-02-01

Shin-Etsu Chemical Co., Ltd.

Novel fluorohydroxyalkyl sulfonate salts and derivatives, photoacid generators, resist compositions, and patterning process

JP5124806B2

(

en

)

*

2006-06-27
2013-01-23

信越化学工業株式会社

Resist materials and pattern forming method using photoacid generator and this

US8211984B2

(

en

)

*

2006-07-21
2012-07-03

Mitsui Chemicals, Inc.

Ring-opening metathesis polymer, hydrogenated product thereof, method for preparing the same, and use thereof

KR101035742B1

(

en

)

*

2006-09-28
2011-05-20

신에쓰 가가꾸 고교 가부시끼가이샤

Novel Photoacid Generators, Resist Compositions, and Patterning Process

US9104107B1

(

en

)
2013-04-03
2015-08-11

Western Digital (Fremont), Llc

DUV photoresist process
Citations (5)
* Cited by examiner, † Cited by third party
Publication number
Priority date
Publication date
Assignee
Title

JPH11130844A

(

en

)

*

1997-10-28
1999-05-18

Mitsui Chem Inc

Acid-decomposable polymer and production thereof

JP2000109545A

(

en

)

*

1998-06-29
2000-04-18

Mitsui Chemicals Inc

Hydrogenated product of ring-opened metathesis polymer, its use and production thereof

EP1004568A2

(

en

)

*

1998-11-02
2000-05-31

Shin-Etsu Chemical Co., Ltd.

Novel ester compounds, polymers, resist compositions and patterning process

US6207779B1

(

en

)

*

1998-06-30
2001-03-27

Industrial Technology Research Institute

Ring-opened polymer

EP1099983A1

(

en

)

*

1999-11-12
2001-05-16

Shin-Etsu Chemical Co., Ltd.

Chemically amplified positive resist composition and patterning method
Family Cites Families (17)
* Cited by examiner, † Cited by third party
Publication number
Priority date
Publication date
Assignee
Title

JP2881969B2

(

en

)
1990-06-05
1999-04-12

富士通株式会社

Radiation sensitive resist and patterning method

JP2898143B2

(

en

)
1991-06-12
1999-05-31

三井化学株式会社

Sensitizing solution composition, a photosensitive film and laminates

JPH05257285A

(

en

)
1992-03-12
1993-10-08

Fujitsu Ltd

Radiosensitive material and formation of pattern using the same

JPH06342212A

(

en

)
1993-04-07
1994-12-13

Matsushita Electric Ind Co Ltd

Resist for forming fine pattern and fine pattern forming method

JPH07333850A

(

en

)
1994-06-14
1995-12-22

Sony Corp

Photosensitive composition

GB9509487D0

(

en

)

*

1995-05-10
1995-07-05

Ici Plc

Micro relief element & preparation thereof

JPH09230595A

(

en

)
1996-02-26
1997-09-05

Nippon Zeon Co Ltd

Resist composition and its utilization

JP3691897B2

(

en

)
1996-03-07
2005-09-07

富士通株式会社

Method of forming a resist material and the resist pattern

EP0885405B1

(

en

)
1996-03-07
2005-06-08

Sumitomo Bakelite Co., Ltd.

Photoresist compositions comprising polycyclic polymers with acid labile pendant groups

JP3785726B2

(

en

)
1997-03-12
2006-06-14

Jsr株式会社

Semiconductor device manufacturing radiation sensitive resin composition

JP3678559B2

(

en

)
1997-10-28
2005-08-03

三井化学株式会社

Ring-opening metathesis (co) hydrogenated product of polymer and manufacturing method thereof

JP3693477B2

(

en

)
1997-10-28
2005-09-07

三井化学株式会社

Ring-opening metathesis (co) hydrogenated product of polymer and manufacturing method thereof

JP3703277B2

(

en

)
1997-12-12
2005-10-05

三井化学株式会社

Narrow dispersity polymers and a manufacturing method thereof having an acid-dissociable group

JP4131062B2

(

en

)
1998-09-25
2008-08-13

信越化学工業株式会社

The novel lactone-containing compounds, high molecular compounds, resist materials and pattern forming method

JP2000357544A

(

en

)
1999-04-16
2000-12-26

Idemitsu Kosan Co Ltd

Coloring matter sensitizing type solar battery

JP3901401B2

(

en

)
1999-07-13
2007-04-04

三井化学株式会社

Positive photoresist composition and pattern forming method

US6531627B2

(

en

)

*

2000-04-27
2003-03-11

Shin-Etsu Chemical Co., Ltd.

Ester compounds, polymers, resist compositions and patterning process
Patent Citations (6)
* Cited by examiner, † Cited by third party
Publication number
Priority date
Publication date
Assignee
Title

JPH11130844A

(

en

)

*

1997-10-28
1999-05-18

Mitsui Chem Inc

Acid-decomposable polymer and production thereof

JP2000109545A

(

en

)

*

1998-06-29
2000-04-18

Mitsui Chemicals Inc

Hydrogenated product of ring-opened metathesis polymer, its use and production thereof

US6372854B1

(

en

)

*

1998-06-29
2002-04-16

Mitsui Chemicals, Inc.

Hydrogenated ring-opening metathesis polymer and its use and production

US6207779B1

(

en

)

*

1998-06-30
2001-03-27

Industrial Technology Research Institute

Ring-opened polymer

EP1004568A2

(

en

)

*

1998-11-02
2000-05-31

Shin-Etsu Chemical Co., Ltd.

Novel ester compounds, polymers, resist compositions and patterning process

EP1099983A1

(

en

)

*

1999-11-12
2001-05-16

Shin-Etsu Chemical Co., Ltd.

Chemically amplified positive resist composition and patterning method
Non-Patent Citations (1)
* Cited by examiner, † Cited by third party
Title
DATABASE WPI Section Ch Week 199930, Derwent World Patents Index; Class A17, AN 1999-352899, XP002217910
*
Similar Documents
Publication
Publication Date
Title

US5863701A

(

en

)
Polymers containing protected styrene and unprotected hydroxbenzyl (meth) acrylamides

US6261743B1

(

en

)
Antireflective coating compositions comprising photoacid generators

US6280911B1

(

en

)
Photoresist compositions comprising blends of ionic and non-ionic photoacid generators

US6210856B1

(

en

)
Resist composition and process of forming a patterned resist layer on a substrate

US6890448B2

(

en

)
Antireflective hard mask compositions

US20030224286A1

(

en

)
Processes for producing polysiloxanes and photoresist compositions comprising same

US6063542A

(

en

)
Polymer for positive photoresist and chemical amplification positive photoresist composition comprising the same

US6653049B2

(

en

)
High conformality antireflective coating compositions

US6187506B1

(

en

)
Antireflective coating for photoresist compositions

US20090233226A1

(

en

)
Photopatternable dielectric materials for beol applications and methods for use

US5691396A

(

en

)
Polysiloxane compounds and positive resist compositions

US6303268B1

(

en

)
Resist resin, resist resin composition and method of forming pattern using resist resin and resist resin composition

US6057083A

(

en

)
Polymers and photoresist compositions

US6048672A

(

en

)
Photoresist compositions and methods and articles of manufacture comprising same

US20020031729A1

(

en

)
Antireflective coating compositions

US6037107A

(

en

)
Photoresist compositions

US20080286467A1

(

en

)
Method of use for photopatternable dielectric materials for beol applications

US6361926B1

(

en

)
Acid functional polymers based on benzocyclobutene

JP2006349700A

(

en

)
Photosensitive resin composition, method for producing pattern and electronic component

US4985342A

(

en

)
Polysiloxane pattern-forming material with SiO4/2 units and pattern formation method using same

WO2002086624A1

(

en

)
Composition for forming antireflection film for lithography

WO2003077029A1

(

en

)
Negative photoresists for short wavelength imaging

US6482567B1

(

en

)
Oxime sulfonate and N-oxyimidosulfonate photoacid generators and photoresists comprising same

EP0930542A1

(

en

)
Polymers and photoresist compositions for short wavelength imaging

US5547812A

(

en

)
Composition for eliminating microbridging in chemically amplified photoresists comprising a polymer blend of a poly(hydroxystyrene) and a copolymer made of hydroxystyrene and an acrylic monomer
Legal Events
Date
Code
Title
Description
AK
Designated contracting states:

Kind code of ref document: A2

Designated state(s): AT BE BG CH CY CZ DE DK EE ES FI FR GB GR IE IT LI LU MC NL PT SE SK TR

AX
Request for extension of the european patent to

Free format text: AL;LT;LV;MK;RO;SI

AX
Request for extension of the european patent to

Extension state: AL LT LV MK RO SI

AK
Designated contracting states:

Kind code of ref document: A3

Designated state(s): AT BE BG CH CY CZ DE DK EE ES FI FR GB GR IE IT LI LU MC NL PT SE SK TR

17P
Request for examination filed

Effective date: 20030626

AKX
Payment of designation fees

Designated state(s): DE FR GB

17Q
First examination report

Effective date: 20090209

RIN1
Inventor (correction)

Inventor name: KOBAYASHI, TOMOHIRO

Inventor name: WATANABE, SATOSHI

INTG
Announcement of intention to grant

Effective date: 20151020

REG
Reference to a national code

Ref country code: GB

Ref legal event code: FG4D

AK
Designated contracting states:

Kind code of ref document: B1

Designated state(s): DE FR GB

REG
Reference to a national code

Ref country code: DE

Ref legal event code: R096

Ref document number: 60247884

Country of ref document: DE

REG
Reference to a national code

Ref country code: FR

Ref legal event code: PLFP

Year of fee payment: 15

REG
Reference to a national code

Ref country code: DE

Ref legal event code: R097

Ref document number: 60247884

Country of ref document: DE

26N
No opposition filed

Effective date: 20170102

GBPC
Gb: european patent ceased through non-payment of renewal fee

Effective date: 20160712

PG25
Lapsed in a contracting state announced via postgrant inform. from nat. office to epo

Ref country code: GB

Free format text: LAPSE BECAUSE OF NON-PAYMENT OF DUE FEES

Effective date: 20160712

REG
Reference to a national code

Ref country code: FR

Ref legal event code: PLFP

Year of fee payment: 16

PGFP
Postgrant: annual fees paid to national office

Ref country code: FR

Payment date: 20170613

Year of fee payment: 16

PGFP
Postgrant: annual fees paid to national office

Ref country code: DE

Payment date: 20170705

Year of fee payment: 16